THE OLDEST "FAKE NEWS"

Do you have the moral courage to read the truth, the whole truth and nothing but the truth about our inherited 'religious' beliefs?

First, extensive objective research shows yes, there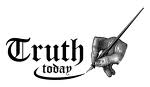 is what we call an 'Intelligent Designer' - known as 'God' – the Cause/Effect argument. Great known 'secularist' scientists like Einstein, Bohm and others like them conceded that a 'Great Mind' (God) is responsible for the order in the universe.

People have the freedom to believe what they want to believe, but extensive objective research has uncovered fraud for our beliefs being perpetrated by the Bible – and the Church. This fraud must be removed because it is adversely affecting millions of people everywhere.

Read very carefully:

The Most Successful and Oldest 2,000+ year old FAKE NEWS which produces an estimated 1 to 5 billion dollars per year for the Vatican/R.C. Ch. The following most fundamental beliefs were concocted fraudulently because there is absolutely no independent supporting evidence:

1.Eternal hellfire. (proved to be *fraudulently concocted).
2. Only priests can prevent you from eternal damnation -
3. When we die we stay underground – then Jesus will come to judge the living and the dead/: some will go to heaven – and others to eternal damnation… no authority for that.

4. 'Only Faith in Jesus - only way to go to heaven' : but evidence shows selfless service is the way, not just 'faith' or 'prayers'.
5. 'Communicating with those who crossed over – communicating with devils..' There is scientific vidence to the contrary. Also, Church of England agrees it is possible to make contact with crossed over loved ones.
6. 'Holy Trinity' – there is no admissible evidence.
7. Kill those who commit adultery. (Deuteronomy 22:22) Christians are not obeying God in the Bible? – why are they not killing those who commit adultery? Experts tell us half of the population of the world sooner or later commit adultery).
8. Confessions/indulgences invalid because of the the superior universal Law of Cause and Effect .
9. Resurrection: There is NO resurrection – consciousness continues after physical death and continues forever and ever..
10. The 'Last' Judgement - evidence: there is NO 'last judgement' - where people could be "cursed into eternal hellfire."

These beliefs above started from some 2,000 years ago – some came later. But overall these are 'FAKE NEWS' because they have been concocted to control the mind and the heart of the unaware, the timid and those easily bullied with eternal damnation.

Conclusion: REFORM THE CHURCH TO REMOVE ALL THE FAKE NEWS:– THE FRAUDULENT BELIEFS – to MAKE THE CHURCH 'SPIRITUAL'.