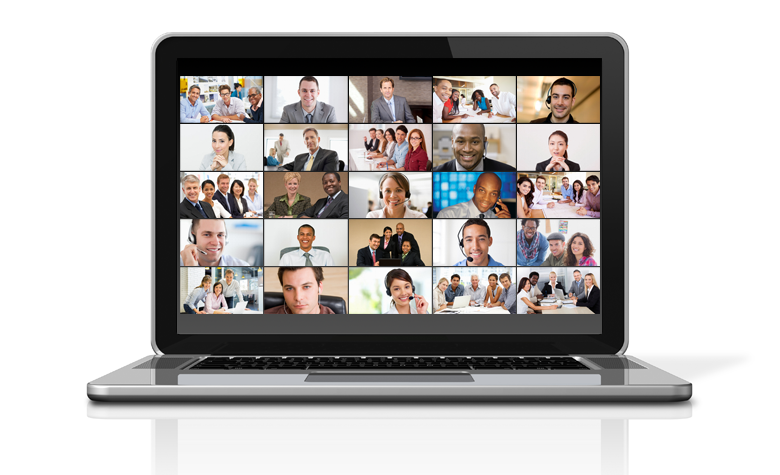 ONLINE MEETINGS USING VIDEO CONFERENCING PLATFORM ZOOM
FROM 12th October 2018

All meetings are FREE and use our main zoom room unless specified.
The room open 24/7 for you to practice checking your microphone and video
Click the link https://zoom.us/j/7595332928 (unless the meeting is being held in a different zoom room)

The app should download automatically the first time you go there.
The meeting ID is 7595332928

For more details see https://zoom.us/
You can access short "how to" videos here

We ask you to:
* use a webcam so we can see your face
* check your sound and video in the zoom room in advance (the room is open 24 hours a day)- just Click the link https://zoom.us/j/7595332928
* if possible use a computer laptop or tablet rather than a phone as some phones seem to drop out.
* get the best bandwidth you can by closing other programs and staying close to your modem.
* come 10 minutes early to set up your camera and microphone as it disrupts the groups having new people arriving half way though.
__________________________________________________________________

Convert times to your time here.

SUNDAY GROUPS

Name of group: Australia/ UK/ Europe
What meeting for: Build a community of people interested in physical and mental mediumship in Australia and Europe (and anyone else for whom the time works).
Dates of Meetings: Every Sunday morning European time.
Times: 10 am London time: 11am Vienna; 8 pm Sydney time; 5 am New York time 2am Pacific
https://zoom.us/j/7595332928
Co-ordinator: Karyn Jarvie karynjarvie@ozemail.com.au
This week's topic: General discussion and sharing of experiences


Name of group: Mediumship Development
What meeting for: developing the skills of mental mediumship and blending with spirit.
Meetings: Every 2nd and 4th Sunday Next meeting Sunday 28th October.
Times: 2 :00 p.m. New York time
How meets (online/physical): Online in Zoom https://zoom.us/j/7595332928
Coordinator: Dr. Susan B. Barnes, CSNU susanbbarnes@gmail.com



Name of group: Global Gathering
What meeting for: Bring together people in the UK, Europe, USA and Australia to discuss new developments in all things related to afterlife studies and physical, menal and trance mediumship.
Dates of Meetings: Every Sunday USA and Europe/ Monday 7am Sydney.
Times: 4 pm New York Time; 1 pm Pacific time; 9 pm London time;
7 am Monday Sydney time
https://zoom.us/j/7595332928
Co-ordinator: Wendy Zammit wendyammit@gmail.com
Topic Sunday 21st October: Physical Mediumship with Dr. Susan Barnes.

Video of Last week's meeting "Accessing the Akashic Records" with Barbara Reed.
https://www.youtube.com/watch?v=xvh-0iuE2_c&feature=youtu.be


MONDAY GROUPS


Name of Group: EVP Practice group
What meeting for: The EVP Group consists of EVP experienced AREI members who have completed AREI Audacity classes and established some form of communication with a loved one in the afterlife using computer technology/software. Members share their personal/non-personal experienced-based knowledge and technical and non-technical information to help him/herself and other group members improve the quality of ITC communication.
Dates of Meeting: Second Monday of the month Next meeting Monday 12th November
Time:7pm Central time
Zoom room: https://zoom.us/j/2381756870
(Please note this is a different zoom room to AREI's main room<
Coordinator: Eloy Flores efl2432948@aol.com


TUESDAY GROUPS
Name of group: Spirit Art
We are meeting for the purpose of creating spirit art with messages.
No art experience required.
Meetings every 2nd and 4th Tuesday at 9 p.m. New York time. Next meeting Tuesday 23rd October.
Coordinator: Dr. Susan B. Barnes, CSNU susanbbarnes@gmail.com


WEDNESDAY GROUPS
Name of group: Automatic Writing and Mediumship Discussion
What meeting for: Share resources and discuss what participants are experiencing
Dates of meetings: 1st and 3rd Wednesdays, 5:30 PM Pacific Time Next meeting Wednesay 7th November
https://zoom.us/j/7595332928
Coordinator: Sheila Lowe sheila@sheilalowe.com


Name of group: Physical mediumship for new sitters and developing mediums
Dates of Meeting: 1st and 3rd Wednesday nights of the month with Rob Blackburn
Times: 7 pm Central time 8 pm New York 5 pm Pacific Time Sydney time Thursday 11am London time Thurday 1am.
Special First meeting this month Wednesday, October 24th 7 pm CT
Coordinator: Rob Blackburn
NOTE This will be in a different AREI zoom room.
https://zoom.us/j/4381898190
Email: rkblack rkblack@mtco.com for room info.

THURSDAY GROUPS
Name of group: Psychic and Mediumship Development.
Dates of Meeting: 1st Thursday of month Next meeting Thursday 1st November
Times: 8 pm New York time Sydney Friday 11am London time Friday 1am.
As the group is experiential that is people will be doing exercises and meditation the meetings will be capped at 20 participants and the door shut at 10 mins past the hour.
https://zoom.us/j/7595332928
Coordinator: Winter Brook Ryan Winter@winterbrookmedium.com


FRIDAY GROUPS




SATURDAY GROUPS
Name of group: Love After Life
What meeting for: Rebuilding a happy, fulfilling relationship with our **ROMANTIC** soul-mates / twin-flames who have crossed over.
Dates of meetings: Every Saturday (US TIME)
How meets (online/physical): Online via our own Zoom Group, must be a member of the FB group Love After Life
Coordinators: Mary Beth Spann Mank & William J. William Murray
__________________________________________________________________________


Videos of past meetings (Mostly Global Gatherings)

Video October 14th "Accessing the Akashic Records" with Barbara Reed.
Video 26th August 2018 Stafford Betty, Afterlife Q and A
Video 19th August 2018: Dennis Grega and Michell Szabo
Video 12th August 2018: Tina Powers: Reporter for the other side
Video 5th August 2018:John Finnemore: The Universal Brother and Sisterhood.
Video 29th July 2018: Books - not recorded.
Video 22nd July 2018: Nicole De Haas on Two Physical Mediums
Video 22nd July 2018: Mark Pitstick - The Soul Phone and his AREI presentations.
Video 15th July 2018: Sheri Perl - healing journey and EVP
Video 8th July 2018: Jamie Clark
Video 1st July 2018: Ann Harrison on Physical mediumship.
Video 24th June 2018: Ellie Pechet Metaphysician and Shaman
Video 17th June 2018 : Mary Beth Spann Mank - The Annie Nanji Tapes
Video 10th June 2018: Ann Clark on Life Between Lives Regression
Video 3rd June 2018: Mediums Melinda Kushna + update on members' circles
27th May 2018 Good grief - Presentation by Arizona Bell
Video 20th May 2018 Sandra Champlain - 10 Reasons to believe in the Afterlife
Video 13th May 2018 Nicole de Haas Physical Medium
6th May 2018 Louise Hermann - (problems with the video)
Video 30th April 2018 Hauntings 101 with medium Mark Christopher Nelson
Video 23rd April 2018 Spirit Art with Sandy Ingham and Dr. Susan Banes CSNU
Video 16th April 2018 August Goforth on physical mediumship
Video 8th April 2018 Walter Semkiw M.D. on Reincarnation
Video 25th March 2018 How to Self Publish Your Book
Video 18th March 2018 Tricia Robertson Psychical Researcher
Video 11th March 2018 Robin Foy answers questions about Scole
Video 4th March 2018 Child Suicide with Elizabeth Robinson
Video 25th February 2018 Voices Across the Veil
Video 18th February 2018 Discussion of books members have written.
Video 11th February 2018 Hypnosis and Mediumship with Scott Milligan.
Video 5th February 2018 Shannon Taggart - Photographing Physical mediums
Video 28th January 2018 Spirit Teams
Video 21st January 2018 Medium Louise Hermann
Video January 15th 2018 The Vision for AREI
Video December 13th 2017 Jurgen Ziewe Out of Body Experiences
Video November 28th 2017 Marion Dampier Jeans Physical medium


FACEBOOK GROUPS


AFTERLIFE RESEARCH AND EDUCATION DISCUSSION GROUP-
Victor and Wendy Zammit, Susanne Wilson and Marcus Lang.
An open public Facebook group where people interested in the Afterlife Research and Education can network, share their current work and discuss ways we can work collaboratively
https://www.facebook.com/groups/1221362841292630/

WE DON'T DIE LISTENERS GROUP - Sandra Champlain
A group is for We Don't Die Radio Show listeners to have a safe place to meet new friends and discuss topics related to the afterlife, help with grief and ways to live powerful, inspired lives!
https://www.facebook.com/groups/wedontdielisteners/

SOUL MATES GROUP - Louise McOrmond-Plummer, a closed Facebook group for those interested to re-establish a joyful relationship with a departed soul-mate
created by Louise McOrmond-Plummer, with several authors on the subject participating as members: Forever In Love with Our Partners who have Crossed Over
https://www.facebook.com/groups/305481626618327/

SOUL EXPLORERS GROUP - Joy Collins
A closed group for those of us eager to explore topics related to spirituality, the afterlife, and metaphysics.
Joy's book I Will Never Leave You: a soul mate's promise
All are welcome - young and old, male and female, at all levels of experience and understanding but especially for those who are relatively new at this and who may feel out of place in the more advanced sites.
Initially on faceboook - Group name "Soul Explorers"
https://www.facebook.com/groups/412353922515826/



LOVE AFTER LIFE - Mary Beth Spann Mank and William J. Murray
"A closed group dedicated to providing tools, methods and support for those who wanting to reconnect with and re-establish a fulfilling, happy, loving relationship with their crossed-over ROMANTIC soul mate/twin flame. This FB Group is also the home group for the free Zoom Room video meetings "Your Eternal Romantic Relationship," hosted by Mary Beth Spann Mank and William J. Murray, where we will explore techniques, habits and perspectives we have found effective for connecting with romantic soul mates on the other side."https://www.facebook.com/groups/372249243258937


AFTERLIFE TOPICS AND METAPHYSICS - Cyrus Kirkpatrick
A closed group where you can discuss your encounters with the beyond, the supernatural, or with deceased persons, and what you learned from those experiences, as well as your opinions about life in planes beyond this one.
https://www.facebook.com/groups/afterlifetopics/

EVIDENCE FOR THE AFTERLIFE -
Victor Zammit, Marcus Lang, Caroline Laursen, Rae Kelcou Joe Buchanan
An open group for anyone interested in engaging in discussions about the existence of the spirit world.
https://www.facebook.com/groups/evidenceforafterlife/


SACRED DANCE WITH TRANCE - KATHY BELTRAN
A closed support group sharing experiences and knowledge of Trance Mediumship, Trance Healing, Trance Philosophy/Inspiration and Physical Mediumship. Interviews are being done with Trance & Physical Mediums sharing their story and offering beautiful advice on development. We also have two sub-groups for members to join sharing their home circle audio and video files.
https://www.facebook.com/groups/184544325411600/about/




WOULD YOU LIKE TO HOST A LOCAL GROUP OR SPECIAL INTEREST GROUP ON ZOOM?
We can train you and help you with a support person in your meeting.
Email wendy@victorzammit.com with details of your area of interest and preferred times.
WOULD YOU BE AVAILABLE FOR A GUEST SPOT AT A ZOOM MEETING? Email wendy@victorzammit.com with details of your area of interest and preferred times.