PSYCHIC DETECTIVES
POLICE CONFIRM PSYCHICS' AND MEDIUMS' GIFTS
The television series PSYCHIC DETECTIVES, PSYCHIC INVESTIGATIONS and SENSING MURDER have been shown to millions of people

around the world. There, tough skeptical senior police officers, police detectives and other police at the end of each show confirm to the public that the psychic or the medium they worked with was of great help to them in solving the crime and they would work with them again.

What is absolutely stunning in PSYCHIC DETECTIVES, PSYCHIC INVESTIGATIONS and SENSING MURDER is that the gifted forensic psychics have given the police critical information about the victim: how the victim was killed, where to find the body or where the body was found, identifying gender, age, name, marital status, how long has the victim been dead or missing, how the victim died and in many instances the gifted psychic have told the police the actual name of the murderer. Some of the very gifted forensic psyhics and mediums have each given the police more than 80 relevatn items of information about the case.
The FBI, the CIA, the police around the world are using psychics and mediums to help the police close cold cases and solve crimes. For example there is a particularly brilliant case recorded in PSYCHIC DETECTIVES where gifted

forensic psychic Dixie Yeterian (U.S.) (pictured, left) was able to not only inform the police WHERE the victim was buried, HOW the victim was killed, the gifted psychic was able to tell them WHO the murderer was. Detective Mel Ramos (Ret.) of Lompoc Police Department stated – in his own words stated about the psychic, "The information Dixie gave us was like a giant key...we solved it through her. We would never have found the body if it wasn't for her." Source: Court TV Psychic Detectives (Place: Lompoc near Santa Barbara (U.S.) Case: Murder of 'Owen E.''
I have recorded some sixty police officers – from Australia, the United States, New Zealand and the UK, who all confirm that mediums and psychics have psychic gifts and without their assistance the cases would very likely have remained unsolved. Those who are interested to read more about what these police actually stated about the gifted forensic psychics, see http://snipurl.com/1pwerp
Many police officers themselves are psychic. In the UK there is Keith Charles who now works as a professional medium. He was a police officer in London England for 32 years. His duties ranged from guarding Prime Ministers at 10 Downing Street, members of the Royal Family at Buckingham Palace, to walking the late Queen Mother round her beautiful garden. He has investigated all manner of crimes from indecency to aggravated assaults. Keith has been a medium for 23 years and claims to be in direct contact with victims of crimes who have died. He is also the author of two books "Psychic Cop" and "Psychic Detective".
The positive statements by the police are extremely important in educating the public about the validity of mediumship and psychic work. Skeptics are dumfounded that highly skeptical police – who have high credibility are making such positive statements about these forensic. In many of the Psychic Detectives episodes a number of police officers start by saying, "I was a skeptic before I worked with this psychic. But now I am a believer and will work with psychics in the future." That kind of attestation is worth millions in helping gifted psychics and mediums gain the respect they deserve.
Here are some more police officers who gave most positive attestations to gifted forensic psychics and mediums who help the police:
Place: in PSYCHIC DETECTIVES episode, 'Blood Money'. Oneida, New York. Case: Murder of four people
Forensic Psychic: Phil Jordan. Evidence produced: ten most relevant facts – which led to the arrest and conviction of three murderers now serving 100 years in prison each. Police Comments: 1) Sheriff Bill Hasenaurer of Oneida Country Sheriff's Office, 'I accept the psychics' role in helping with murder cases – and I will call them again – because they get results, I am now a great believer in psychics helping the police'. 2)Sgt. Lynton Clark of Oneida Sheriff's Office completely agreed about the use of psychics in solving murders.
Kurt Hameline, Assistant D.A. of Oneida County stated words to the effect that using psychic was critical to catching the murderers.
Source: Court TV Psychic Detectives. Place:Staunton, Virginia 1979


Case: rape of five elderly women Psychic: Noreen Renier (pictured, left).
Police Comments: 1) Police Deputy Ronnie Whisman "We (the police) were impressed by the psychic on the important information she was able to give us … everything she said about the case came true."
2) Special agent Darrel Stilwell said, " .. obviously she has power … (Noreen's psychic skills) gives you a little extra something to work for."
Source: Court TV Psychic Detectives

45. Place: North Little Rock,
Case: Episode, 'While You Were Sleeping.'
Psychic: Forensic psychic Carol Pate
Cold case: When the case came to a halt because there were no more leads, the police Sgt. T.J. Farley called the psychic Carol Page for help.
Some of the evidence produced by the Carol Pate: " … I see

something really wrong in this house.. night-time, a man with a revolver going up the stairs …he's been hired … he was given a map of the internal of the house …wife involved … some $30,000 missing …victim's wife spending the family's money secretly… (when initially tested by the police, psychic Carol Page correctly identifies the possible suspect from four photos facing downwards).
Police Comments: a) Sgt. T.J. Farley: I would recommend her (the forensic psychic Carol Page) to any agency and give her the opportunity to do it …I'd laugh at you if you don't!"
b) Sgt. W.J. 'Buddy' Miles. "I believe Carole Pate gave us directions that helped us because we were pretty well out of directions …"

Source: PSYCHIC DETECTIVES, Court TV productions
46. Place: Miami Town Police Department
Case: 'Beautify and the Thief'. Abduction and murder of a female teenager
Psychic: Micki Dahne (see younger Micki Dahne, picture, below)
Cold case: Police talk to psychic – police had no leads at the time.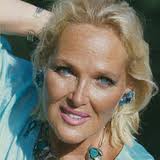 Some of the evidence produced: "… screaming … not what she expected …it was her boyfriend … he works with water (worked as a plumber) … I see initials 'R.S.' (turned out to killer's name: Russell Sanborn) … I see letters written by him to her … I see water (was living near car-wash) … I see him near the beach … he's a killer … he's smoking … I see him attacking her … I saw him killing her …"
Police Comments: a) Detective Roosevelt Turner - Miami DADE Police Department: "We had nothing to go on (before the psychic came on the scene) … she was correct on everything she told us … from his (the killer's) initials ... where the scene was ... his occupation ... the letters … it turned out to be true…"
b) Detective Jerry Zito: Miami DADE Police Department – "The information she (the psychic, Micki Dahne) gave us if not close it was right on the button …"

Source: PSYCHIC DETECTIVES, Court TV productions