We are so fortunate to be living in this time when there is an explosion of information available about what REALLY happens when you die. There are many people and organisations that can help those who are grieving to realise that death is not the end of relationship with our loved one and that they continue to exist on a different frequency.




1) Traditional grief support organisations and counseling can offer you encouragement, support and advice through the grieving process. They will not tell you what to do or how you should be feeling, but they may put forward ideas and strategies to help you cope. However they will not encourage any discussion of the afterlife.


2) The Forever Family Foundation was started in the USA by parents who were attending a grief support group and were forced to talk about their readings with mediums in the carpark.



Join the Forever Family Foundation


3) For child loss join Helping Parents Heal - a US based support group. There is also an online Face book group - Helping Parents Heal Online.
There is also an Australian and New Zealand group of Helping Parents Heal on Facebook which hosts regular online meetings using the meeting platform zoom.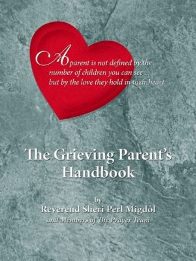 4) For child loss Download a free copy of Sheri Perl's
The Grieving Parents' Handbook
compiled by parents who have lost children answering all the questions that frequently come up like Why me? Is it My fault? How can I live with this?

and join Sheri's The Prayer Registry.





5 ) Watch Susanne Giesemann's video Messages of Hope

and any of her other videos.

6) Learn about the different types of after death communication Be aware that grief makes it harder for your loved one to get through to you. Try to think of them as having gone to another country where they will be having a wonderful time. Send them your love and wishes for their happiness.



Books on SIgns:
Hello From Heaven by Bill and Judy Guggenheim
I got your Message by Joseph M Higgins Interviews about signs.

7) Join Facebook and join one of our moderated discussion groups where people are actively sharing their experiences of exploring the evidence for the afterlife:

https://www.facebook.com/groups/evidenceforafterlife
https://www.facebook.com/groups/1221362841292630/


8) Subscribe to the Friday Afterlife Report - it's FREE and will help you.
Read previous reports



9 ) Ask your loved one to contact you in a dream visit or in some other way.
.


https://www.youtube.com/watch?v=KF3elIZq4OA


10) Talk to your loved ones as if they can hear you - they can.





11) Try to slow your mind down to be more receptive. Learn to meditate. As a start try and sit for 5 minutes morning and night just breathing deeply and focusing on your breath.

An audio excerpt from Pema Chödrön's "How to Meditate". Listen to the rest of the audio program or read the book.
Or sign up for a course.





12) Learn about mediums Here is an example of a reading by an evidential medium where the client is a skeptic.



Watch more videos about mediums and how they can be tested.


13) Learn about how to have a good reading with a medium.




14 ) Start reading books that are recommended or that "come to you". Here are some suggestions.

'A Lawyer Presents the Evidence for the Afterlife'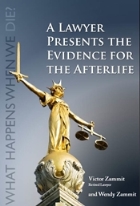 Buy on amazon.com
Buy on amazon.co.uk
Buy on Barnes and Noble (accepts Paypal
Buy on Book Depository (accepts Paypal)
You can read the previous version FREE online or If you genuinely cannot afford to buy a copy email books@victorzammit and we will send you one.



Among Mediums: A scientists Quest for Answers
Following the suicide of her mother and an evidential mediumship reading, Dr. Julie Beischel forfeited a potentially lucrative career in the pharmaceutical industry to pursue rigorous scientific research with mediums full-time. Among Mediums is an accessible, bite-sized review of her 10-year journey and the answers she discovered along the way. Read more...


Susanne Wilson's Soul Smart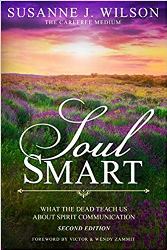 "If you are new to world of mediumship, browsing for a good read, or a well seasoned traveler on this journey of who we are, there is something for you in this well written book. Susanne's presentation is like taking a class to learn about soul communication. She not only presents her life story that brought her to develop her natural mediumship, she also has stories of validations in readings and signs by spirit, synchronistic events, how to recognize spirit guides and angels in your life, dream visits, tips and techniques to make your own connections with loved ones."
Buy book
Love knows no Death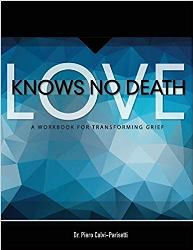 This workbook is an essential part of an innovative approach to grief transformation. This counseling approach, which integrates both written and video lessons, reflects an "unbelievable truth" that the human mind, consciousness and personality do not end with the death of the physical body. In other words, your deceased love one is not, in fact, deceased.




15) Go to a live platform demonstration with a medium.



In NSW Australia Louise Hermann gives regular meetings along the coast for a $10 donation.Read more..

* Video: Why do some people get a connection and not others?


16) Book a Session with Voices Across the Veil Voices Across the Veil is an afterlife research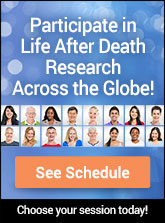 program which has vacancies in online small group session (maximum 6 people) with a tested medium. For US $40 you are guaranteed an individual reading of at least 15 minutes. You can join from anywhere in the world with an internet connection. You will be invited to join a short interview after the reading with a researcher to give feedback on your reading. This contributes to our growing database of afterlife knowledge. There are several different mediums who do readings and you can try a different one on a different occasion. The program has an 85% satisfaction rating. Read more...


17) Listen to one of the many series of interviews with afterlife researchers and mediums.
Open to Hope podcasts
Messages of Hope Radio
We Don't Die Radio
Bob Olson Afterlife TV
NDE radio
Skeptico
Radio Out there with Barry Eaton (Sydney based)
Forever Family Foundation Signs of Life Radio
Buddha at the Gaspump
Seek Reality
Spirit guides radio
Healing Petloss Podcast
Past Lives Podcast
Awake to Oneness Radio
Accentuate the Positive
Big Seance Podcast - Patrick Keller.
Past Lives Podcast
New Dimensions Radio
Sacred Dance with Trance (video)
Lilu Mace (video)
New Thinking Allowed (video)
Afterlife Topics - Cyrus Kirkpatrick Youtube (video)
Anthony Chene Production (video)
NHNE NDE (videos)




18) Watch the videos of Swedenborg and Life
"I've found a YouTube channel that if you have a belief in the afterlife it can be quite comforting. Well I found it so anyway. This is the channel "Off the left eye."




19) Engage a therapist to have a Repair and Reattachment Grief Therapy session.



Read more...


20) Do a FREE self-guided afterlife connection
http://selfguided.spiritualunderstanding.org/


21) Work through the videos on our Evidence website- Again FREE http://www.victorzammit.com/evidence



22) Have a reading with a reputable medium.

How to find a good medium
A psychic reads your aura and tells you possible future trends. They may not connect with spirit at all. A medium has this ability but is also able to go to a different vibration and actually feel, hear or see the spirit of the deceased.

There are some very dishonest people who pretend to be psychics to defraud people. These are fairly easy to spot. They are usually backyard operators. They tell you you have a curse around you and you need to give them your money or possessions to be "cleansed" and they ask you to keep coming back to them regularly.

However there are also some very genuine people who are not dishonest, but have not had sufficient training or development to really connect with the spirit world and hold the connection. They may really think that they are getting information from a spirit but they are reading your aura - or their own imagination. They ask you lots of questions and give you a lot of vague things that could apply to anyone e.g. "They are telling me that you've been under a lot of stress...have a few health problems...are thinking about travel ling.."
Having a reading with someone like this can be very disappointing. If you find after 10 minutes that the information they are giving you is totally vague or way off, stop the reading and ask for your money back.

So it is important to find a genuine medium who has passed some kind of accreditation or is recommended to you. This may mean having to join a waiting list as really good mediums are highly vlaued.

Online readings give you a wider choice
You can book a consultation with a genuine recommended medium who lives anywhere in the world via Skype or phone or an online meeting platform. This is just as effective as a face to face reading and allows you a much wider choice.

The going rate in The US and Australia is between $100 and $150 US. Some mediums especially in the UK charge less and highly gifted and celebrity mediums may charge more.

If you join a grief group or afterlife discussion group on Facebook you will usually find people who are only too happy to share details of mediums who gave them a good reading. You can ask the group moderators for suggestions. But beware of people frequent the group touting for readings. Spiritualist churches are another good source of referrals.

And these days you will be surprised how many of your friends, workmates and relatives have been to see a medium and only mention it if the topic is raised.

Organisations that recommend mediums
If you can't find a personally recommended medium choose one recommended by a reputable organisation.

Mark Ireland, co-founder of Helping Parents Heal, has a program to certify mediums.

Forever Family Foundation certified mediums

Windbridge Institute tests mediums

Bob Olson lists recommended mediums in various countries.

In England The Spiritualist Association of Great Britain has mediums who offer a 30 minute session by Skype for 35 pounds ($45 US or $62)

The Arthur FIndlay College is the leading college for the development of mediumship and the tutors at the College are wonderful mediums who usually are available for readings by skype.

Here is a video showing how mediums at the Arthur Findlay college are trained to give evidence.


How to assess a reading.
The key thing about a good reading is 1) specific evidence that identifies the communicator and 2) whether an emotional connection was achieved. Did you feel a re-connection with the person, a resolution of blockages, a feeling of love? Did you get the feeling that the person in spirit is happy and wants you to be happy as well? A good reading should significantly reduce your grief.
23) Watch videos of
Near Death Experiencers
and
work your way through Kevin Williams'
http://www.near-death.com/
24) Attend a meeting of
IANDS
where you can listen to people's first hand NDEs.
25) Try contacting your loved one via EVP
Sheri Perl is doing wonderful work on teaching parents to contact their children via EVP.
Here are her instructions
.
26) You may like to have a past life regression. Here Brian Weiss takes you through a hypnotic regression.
27) You might like to have a between life regression where you go to where you were planning this life.
See
www.victorzammit.com/evidence/interlife.htm
28) Many people find the Monroe Institute Programs very helpful
http://www.monroeinstitute.org/
(hint you can buy some of the CDs and do the programs from home).
29) A number of people claim to have been able to reunite with loved ones in the afterlife in full waking consciousness having out of body experiences.
Bob Peterson in a 40 year veteran researcher who has
his own techniques
and also has researched those of leading out of body writers.
Some other useful sites:

The Silver Birch books

About Silver Birch

Evermore resources for grieving parents (USA)

Reality and You - The Philosophy and Science of Consciousness

Symptoms of Major Depression and Complicated Grief
Guidelines for Helping Grieving Children
Coping With The Stigma of Grieving an Overdose Death
Grief At Work: A Guide For Employees and Managers
IF YOU HAVE ANY QUESTIONS OR ADDITIONAL SUGGESTIONS PLEASE EMAIL
books@victorzammit.com

Updated 30/11/2018